Rating: 4.25/5 Stars
"Amusement touched the corner of his lips. "Animals love me."
"Oh, I'm sure they do," Scarlet said, beaming with fake encouragement. She shut the door before muttering, "What farm animals don't love a wolf?"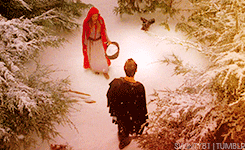 I love it when a sequel is even better than the previous book(s)! That is certainly the case with Scarlet. As many know, The Lunar Chronicles series has a whole host of characters beyond Cinder and Kai. Its in Scarlet that we finally start to meet and get to know those other characters. I thoroughly enjoyed the alternating perspective in this installment and found it to be fast paced and less predictable than Cinder. I had been worried that the sequels to Cinder would diminish the role of the previous books' characters, but haven't found that to be the case (I'm reading Winter right now!).
The plot mainly follows the alliance formed between Wolf and Scarlet, as they travel to Paris in search of her missing grandmother. Scarlet discovers that Wolf may be her only chance in finding her and, possibly against her better judgment, places her trust in him to help. Along the way, Scarlet discovers her grandmother may not be the woman she always believed her to be, and may be harboring the biggest secret on Earth.
"I can see that you're in need of an accomplice," Thorne said, straightening his jumpsuit. "And lucky for you, I happen to be a criminal mastermind."
She glowered at him. "Go away."
"That's a difficult request in this situation."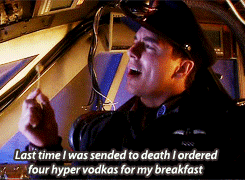 In my personal opinion, the best part of this book is Thorne. ❤ I hope I'm not who got a Captain Jack Harkness vibe from him (though, less scandalous). I loved his comic relief and the banter between him and Cinder. I may have developed a little bit of a crush on him now.
Additionally, I felt like the characters were better fleshed out in this story than the first. We get to see more of their inner feelings and their anxieties over how they are perceived by others and the situations they are faced with. Kai especially grew a lot in this book and I was quite proud of him for standing up against Levana, that wretched witch!
Overall, this is a fantastic follow up to Cinder and I jumped straight from it into Cress, which was even better!